These weekend will give you the opportunity to get a fitness boost leading into your next races, learn how to execute the race to the best of your abilities, enjoy the lectures on what strategy to use (pacing, nutrition, equipment, technique & training), explore quiet and safe roads to cycle and race with your friends and team mates.
Video: Past ironguides camp in Hua Hin
"
The ironguides training camp in Phuket was the most fun I've had in years! As a beginner triathlete with zero race experience, it was the perfect opportunity to learn new skills. Each session challenged me, but it was not so overwhelming that I couldn't participate. I also learned from the excellent lectures, met new people and had fun. The training camp was motivating and inspiring. The race simulation on the final morning gave me confidence to leap into this new sport. THANK
YOU IRONGUIDES!

"
Camp & Club races calendar – 2022
2-3 April 2022
 Middle Distance Camp & Race
Day 1:
0730-1230 Middle Distance Triathlon – 1.5k swim / 90k (or 45k) bike / 10k (or 5k) run. 
1700-1800 Recovery Swim – Open Water Technique & Skills
1900-2030 Dinner & Coach Lecture on Long Distance Racing + QA
Day 2:
7.30-1230am Negative Split Long Ride (130km adv/int & 90km beginner)
Olympic Distance Triathlon or Duathlon (back up in case pools remains closed up to race date).
Limited to 25 athletes.
Course map:
ironguides camps – april 2022 – long distance camp information
Camp Hotel : Dolphin Bay Resort 
FAQ
Safety disclaimer. Above all, remember that this is a club race, a race simulation. The goal is to use this event to have a goal and something to train for. The course is very safe and quiet however not close to traffic, pedestrian, bicycles. We will have staff helping at the key parts of the course, however understand we are not liable for any accident
Where is the race & where should I stay? All events happens at or in front of Dolphin Bay Resort. 
Is there a cut off? Yes, Must start lap 3 of the bike within 3 hours or start the run, must start lap 2 of the run within 4h15. Failing to do so, athletes must cut the race short (60km bike and or 5km run). Finish line cut off 5 hours (no aid station or finish line)
Is there any prize? A symbolic prize money will be given to the first 3 overall of the full distance event (1200, 800, 500THB). Women will have 30min deducted from their finish time and compete against men.
What's included in the camp?
3 Sessions (race simulation + 2 coached)
1 lecture & QA with Head Coach
1 group email from Head Coach before the event with race day tips & guidelines
Support during race simulation and long ride (mechanic, aid station every 45k bike, 2.5k run with water)
Not included: Dinner during QA, all means and accommodation must be paid direct by participants
What is the Cancellation Policy?
Cancellation Insurance (must be purchased together with camp package) = Full refund minus insurance value of 300thb up to 24h before the start of the camp, must notify via email (info@ironguides.net)
By default, there is no refund for all other packages
Covid-19 Special – Full refund up 24h before the start of the camp for Covid restrictions (interprovice travel and gatherings banned).
Cancellation Insurance
300THB
Non refundable. Full refund of camp value minus up to 24h before day 1
ironguides Personalized Coached athletes
1.900THB
For 1-on-1 coached athletes
ironguides BKK club members
2.900THB
ironguides club members
All athletes welcome
3.900THB
non-members pricing
TBC 2022
  Race: ironguides Open Water Swim Team Race – Taco Lake
Schedule
0815-0830 – TBC
How to register:
Book your slot with the booking calendar below
Fill in the form on the thank you page or use this link
Cost: 60thb commitment fee for ironguides athletes & 600thb for drop ins 
Limited to 24 athletes 
Book your slot
(Non-refundable/Non-changeable )
[/vc_column_text]
[ecs-list-events cat='camp'] [ecs-list-events cat='camp2′]
Meet your Coach
Vinnie Santana
ironguides Global Head Coach and Bangkok Squad Consultant & Founder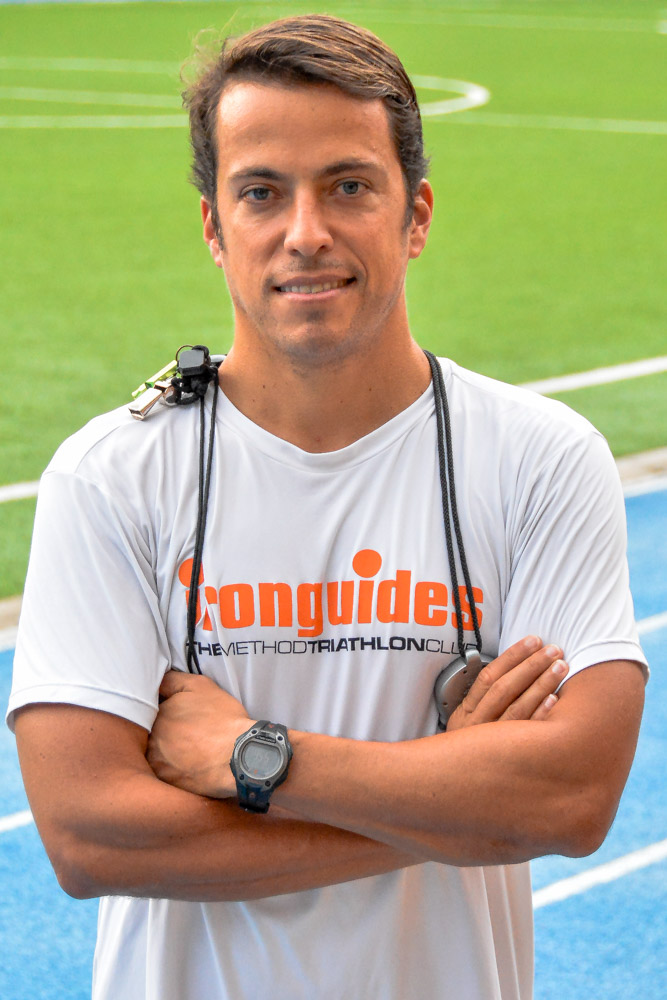 Vinnie provides online coaching to athletes from all over the world. Coach Vinnie holds an ITU Level 1 coaching certification, has coached Professionals Triathletes, Ironman world championship podium athletes and first timers. He has been coaching since 2005 and a triathlete since 1997. Vinnie Santana established himself as one of Brazil's top Ironman athletes in the mid 2000s. He used The Method to drive his rapid rise through the ranks to his 8:50 personal best Ironman time at the age of 23, which qualified him as the youngest Professional triathlete at the Ironman world championships in Kona, Hawaii in 2007. A former member of Team TBB, the professional triathlon team based in Singapore, Vinnie trained under Brett Sutton for 3 years, the same coach who trained multiple times Ironman World Champions and 2012 Olympic Champion.
Get in touch
.