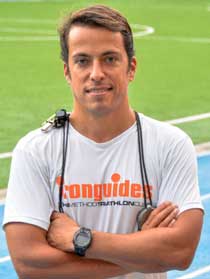 Profile Information
ironguides Head Coach Vinnie Santana has been coaching since 2005 and provides in-person and online coaching from his base in Bangkok, Thailand and quarterly training camps in Thailand (Phuket and Hua Hin).
A native of Brazil, Vinnie gained notoriety for his sub-nine hour Ironman results in his early twenties while managing diabetes type 1, as a type 1 diabetic since the year 2000, Vinnie's expertise is nutrition and endocrinology and he also works with diabetic triathletes and consults for diabetes teams from all over the world. – Vinnie has been training using principles of The Method for much of his career and trained alongside Nicola Spirig (Olympic Champion + Silver), Chrissie Wellington (4x Ironman World Champion) and several world class triathletes while representing teamTBB.
Name: Vinnie Santana
Nationality: Brazilian
Age: 36
Coaching Since: 2005
Number of Athletes Worked with: 200+
Coaching Career Highlights: 
* Ironman World Championships Podium twice (Luiz Topan 2nd M45-49 in 2011 and 4th M40-44 in 2009)
* More than 40 athletes qualified for Kona
* Coached several beginners to finish their first ironman
* Level 1 ITU coach
* Responsible for ironguides Coaching Certification
Additional info:
The youngest Professional Triathlete at the 2007 Ironman World Championship in Kona, Vinnie was a recreational athlete until his age group win at his first Ironman Brazil in the 2004. That's when he decided to race pro and see how fast he could get.
With several sub 9 hour ironman races and with multiple top ten Ironman podiums, Vinnie made himself one of the best and most consistent long course athletes in South America.
Relocated to Bangkok, Thailand after serving time with professional Team TBB, Vinnie first broke the 9h mark at age 22 and has multiple podiums as a professional athlete.