By Alun Woodward, coach, ironguides.net
With the Hawaii Ironman World championships now on the radar its a fitting time to look at the final 6 weeks of an ironman program leading into race day. This is very stressful time for athletes as it is the most important in terms of endurance preparation but it is also a time many destroy their chances of a good race by overdoing the training.
Entering the final 6 weeks you should be pretty much race fit and just needing some final touches leading into race day. The big issue here is confidence in your training as its human nature to always want more and that comes with training, we will always tell ourselves no matter how fit and fast that a little more or a little harder training and we can be even faster. Its this mentality that leads to the overtraining issues and bad races we see all to often come race day, we hear time and time again that it was a bad day or bad nutrition but when it comes down to it the main issue for a bad race is overdoing the training and pushing too hard on those final weeks and being empty come race day.
For a successful ironman performance we need short course speed and strength coupled with all day endurance – a tough combination of factors to fit into your training. The speed and strength elements are something that are built up very slowly over time, with the method we look to build this area of fitness consistently through the year using a brick by brick approach – nothing is too damaging so the build is nice and consistent. We need to think about this development like slowly hammering a nail into a wall – little sure taps and the nail will go in straight and sure – try to do it with one big hit and things will most likely go wrong.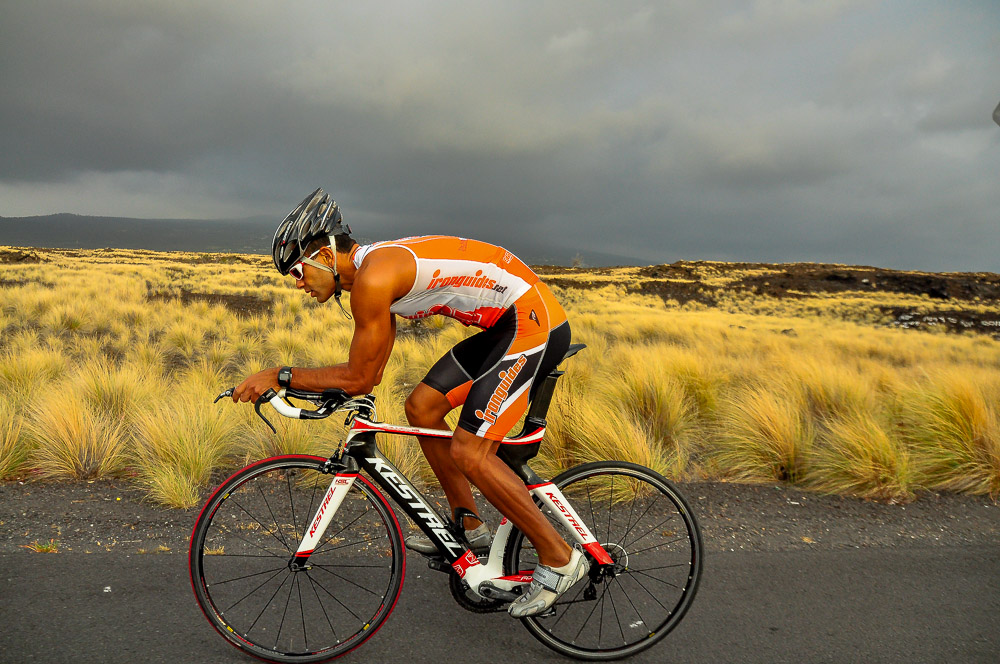 So we often have athletes ask how long an ironman program needs to be – the truth is the endurance element may need to be 12-16 weeks long but the longer we have to constantly work on strength and speed prior to this the more success the program will be. We see time and time again that 2-3 years of consistent work brings athletes close to their athletic ceiling.
So assuming all has gone well and you have put in an extended period of consistent training you should be entering the final 6 weeks fit and ready for the final touches. As i mentioned above endurance is key in this phase but we do need to maintain speed and strength gains – they key here is maintain not build – we can maintain for 6 weeks with very little work and its more a question of staying on a level that pushing through to the next.
For most working athletes i like to maintain the Monday to Friday program as this is where the speed and strength tend to be focussed due to time restraints – the sessions will become more race specific with longer intervals but all speed and power numbers will be maintained. The weekends are the time when we will look to increase the endurance element of the training with increased swim, bike and run volume.
The final 6 weeks are about specificity and that comes in more than one way, not only does the training need to be race specific but so too does the nutrition. Our bodies are very adaptable but they do take time to adapt and now is the time to make sure the body adapts to the nutrition you are planning to use on race day. Being an ironman event and most likely overseas you need to see what nutrition is available on the course and try to use this in your training so your not exposed to new products come race day.
Endurance blocks, rather than going crazy on some sessions i like my athletes to include 2 focussed and planned 4 day endurance blocks within the final 6 weeks, ideally without work so not only can training be maximised but recovery too – these 4 days will see roughly a weeks training volume but focussed on swim and bike rather than run to allow overload without too much damage and allow the athletes to jump straight back into regular training. 4 days works very well for this, there is no need to push for more than this as the body will start to massively break down and require extended reverie time which will impact fitness.
Nutrition is an area that needs to focussed on also during the final 6 weeks, we all get so set in our ways with food and tend to cycle the same meals and same portion size week by week. As we hit the final 6 weeks and training volume increases so too does the calorific need of the body, in the final 6 weeks make sure you reflect this by increasing portion sizes where appropriate and than especially means more carbs during endurance sessions and immediately following big sessions. This can be a big challenge for many as the mentality is always to drop weight in the final weeks as again we all falsely believe lighter is faster on race day and always looking to lose the last few kg during this period. If you train more and eat less bad things are going to happen!! If your looking to reach race weight it should be done by 6 weeks out and then its about maintaining and focussing on feeling the work and recovery.
Not only does training hard mean eating hard it also means recovering hard, make sure this is a time where you ignore those social events and jobs to be done around the house. Its only 6 weeks and making sure you spend a little more time focussed on recovery will lead to more gains from the work you put into training!
Finally the last thing i like to remind my athletes is i want them feeling like caged animals come race day, race day is the time to release all the hard work done and really reap the rewards for al your hard work. How many times do we see athletes dreading a race as they feel broken down, tired and not ready to race – it all comes from pushing for that last minute fitness and not resting – in those final 6 weeks you have to do the work but every time you feel great and motivated and like pushing the boundaries remember the caged animal – remember the feeling and keep it under wraps until race day – pushing on now will not make you faster more than likely you will leave your perfect race on the training fields.
Enjoy your training
Alun Woodward
– 
Train with ironguides!
Download our free e-Book "Triathlon Secrets" – Training methods of olympic medalist, ironman and world champions revealed
Personalized Online Coaching:  Starting at USD190/month
Monthly Training plans (for all levels, or focused on one discipline): Only USD39/months
Event based training plans:
Sprint Distance (USD45 for 8-week plan)
Olympic Distance (USD65 for 12 week plan)
Half Ironman (R$95 for 16-week plan)
Ironman (USD145 for 20-week plan)
X-Terra (USD65 for 12-week plan)
Running Plans (10k, 21k and 42k – starting at USD40)